We're happy to announce more dates in March with Iron Chic (who rocked the shit out of the Park Theatre up here in chilly-willy Winnipeg last week), and our young friends, La Armada (who are releasing their next record the day before our first show in Minneapolis!). Check the shows section shortly…tickets go on sale Friday..
April/May takes us to Europe! Where might this rollercoaster take us next?!
Quite possibly a pit-stop at the Shreddies Flatulence Filtering Underwear factory!?! Me-hope-sooooooooo….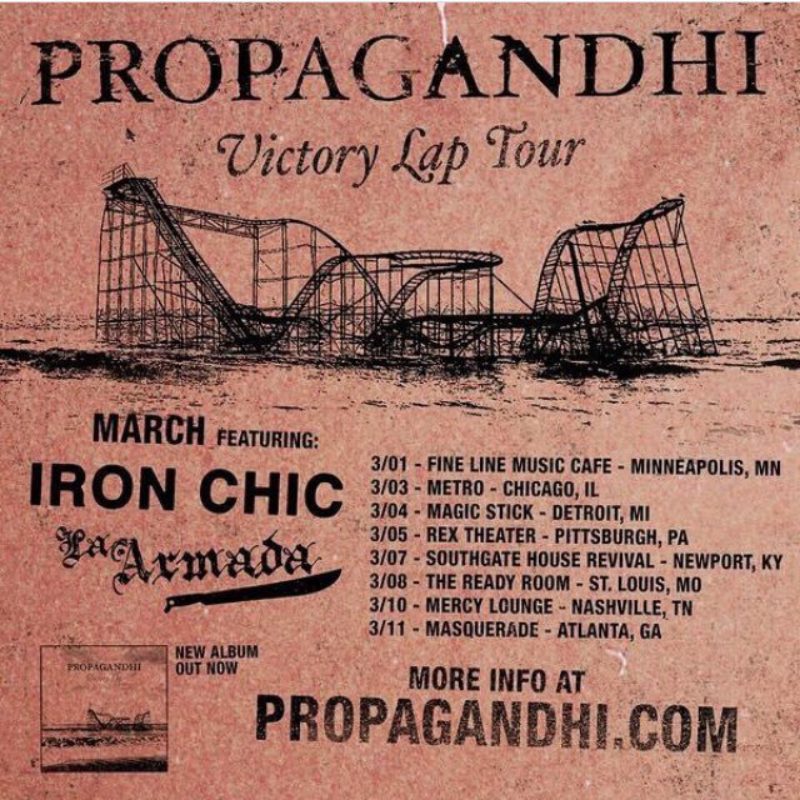 Hello, everybody! Here's another new tune for you to check out, this one is called "Failed Imagineer." Our new record Victory Lap is out on September 29th!
Greetings Phellow Phart Loving Phriends and assorted Phecal Phreaks!!!
Gather your rubber boots and sanitary wipes, as we invite YOU to join US for a guaranteed good time on our Victory Lap tour!!
In October, Leg 1A (with Iron Chic and the G.A.S. Drummers) will have us blast through London (ON), Toronto and Ottawa, with time for a short pit stop in Montreal to gather our breath and slow cook some pinto beans. We'll say "very good! bye now!" to our pals the Gas Drummers; Heartsounds will get on board; Iron Chic will invest in some gas masks, and we'll take off on Leg 1B to spread our good cheer to the phine pholk of Washington DC, Philly, NYC and Boston! 
 Leg 2 takes us sliding down the West Coast with long-time touring pals RVIVR (who apparently have zero functioning olphactory nerves remaining), and new acquaintances Bad Cop/Bad Cop (for some phree advise, see above comment re: gas masks). We'll be ripping through multiple pairs of soiled underwear from Vancouver-Seattle-Portland-SF-Phoenix-Vegas (Vegas?! what the…)-Santa Ana-Los Angeles!! Holy phrick, I'm already phriggin dizzy as all phuck!! Good thing I'll be taking the phunicular! (I really can't handle rollercoasters….) 
 Planning is well underway to take this hi-methane powered machine overseas in 2018!! 
 I'm happy to say the trusty ol' Propagandhi road crew has been on high simmer for weeks now…stay upwind from those guys!! I'm telling ya… 
See the Upcoming Shows section for more details. Tickets go on sale Friday July 28!
Anyway, I can't wait to be crammed into a variety of moving tubes, huffing and hotboxing some serious AAA grade phlatch with my great pals once again!!! Pheeeee-yewph. The smell of Victory!! NOW!!…back to the dutch oven….
We're extremely pleased to announce our upcoming total rager of an album entitled Victory Lap. The official release date is September 29. Pre-orders are up now! Pre-orders come with a flexi disk of a very wicked extra song. We worked really hard on this record and are really proud of it. This record is also the debut of our new guitar player, Sulynn!
Do you like apples? Well, not only are we playing Colorado. Not only are we playing Texas. Not only are we being joined by Teenage Bottlerocket and Elway on those dates. Not only are we playing Florida. Not only are we playing Fest. WE ARE PLAYING SULYNN'S HOMETOWN OF TAMPA! How you like them apples? Go here to see the dates here and grab some tix pronto before you're reduced to a sad little loser stomping your feet outside the venue complaining that we're sell-outs because we're not playing your friend's basement instead.
Hi people. It's your old pal Chrissy here. So, here in our hometown of Winnipeg, there is an important place called the Rainbow Resource Centre. It's stated mission is to "provide support, education and resources to foster a proud, resilient and diverse LGBT2SQ community" and its' vision is "a society in which diverse sexual and gender identities, orientations and expressions are included, valued and celebrated as a result of our active commitment to promote and maintain dignity, human freedoms and human rights". Propagandhi shares that vision and in a small show of solidarity for it, we want to donate any and all proceeds from the sale of this Today's Empires, Tomorrow's Ashes-themed/ repurposed shirt to the folks here in our neck of the woods working the front-lines of an ongoing liberation struggle. And hey, it won't hurt that you'll look fuckin smokin' in it either eh?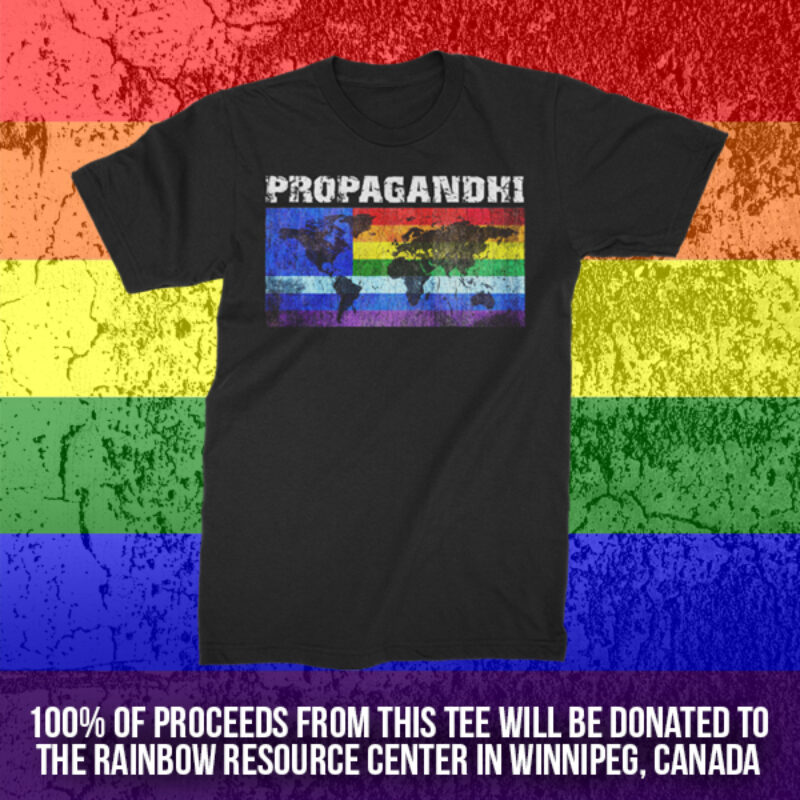 Newsletter