We're extremely pleased to announce our upcoming total rager of an album entitled Victory Lap. The official release date is September 29. Pre-orders are up now! Pre-orders come with a flexi disk of a very wicked extra song. We worked really hard on this record and are really proud of it. This record is also the debut of our new guitar player, Sulynn!
Do you like apples? Well, not only are we playing Colorado. Not only are we playing Texas. Not only are we being joined by Teenage Bottlerocket and Elway on those dates. Not only are we playing Florida. Not only are we playing Fest. WE ARE PLAYING SULYNN'S HOMETOWN OF TAMPA! How you like them apples? Go here to see the dates here and grab some tix pronto before you're reduced to a sad little loser stomping your feet outside the venue complaining that we're sell-outs because we're not playing your friend's basement instead.
Hi people. It's your old pal Chrissy here. So, here in our hometown of Winnipeg, there is an important place called the Rainbow Resource Centre. It's stated mission is to "provide support, education and resources to foster a proud, resilient and diverse LGBT2SQ community" and its' vision is "a society in which diverse sexual and gender identities, orientations and expressions are included, valued and celebrated as a result of our active commitment to promote and maintain dignity, human freedoms and human rights". Propagandhi shares that vision and in a small show of solidarity for it, we want to donate any and all proceeds from the sale of this Today's Empires, Tomorrow's Ashes-themed/ repurposed shirt to the folks here in our neck of the woods working the front-lines of an ongoing liberation struggle. And hey, it won't hurt that you'll look fuckin smokin' in it either eh?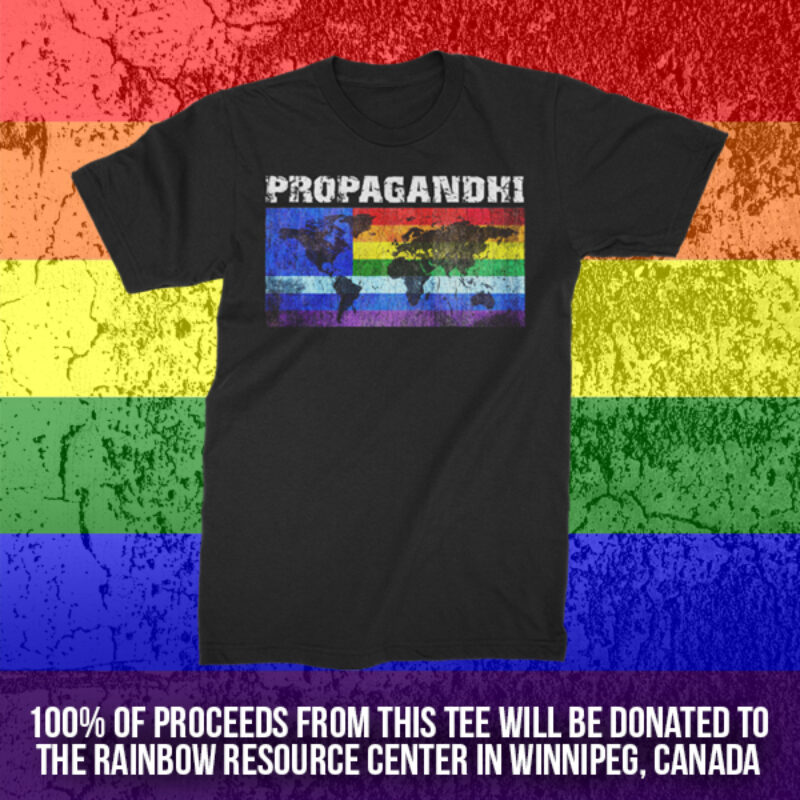 bet you can't guess where we're playing in July? Finl — what? how'd you guess that?!?
yes, our version of the summer festival circuit — where we travel the world playing all the great non-corporate-sponsored musical festivals that don't suck at the energy-drunk teat of the corporate order — consists of one festival. haha. oh well. we're pretty stoked. Sulynn is pretty stoked. finland will be stoked. fists will be raised. heads will be banged. pants will be pooped (soundguy).
hi. it's me. chris. the guy who barely gives a shit about anything besides heavy metal and hockey anymore. despite this, i do still think some things matter and should change prior to the impending global meltdown our "way of life" has in store for us. in the spirit of getting our affairs in order before planetary self-immolation, i offer you this open letter to Canada from Ryan McMahon, an Anishinaabe dad/ comedian/ writer/ media maker/ unstoppable force living right here in our garbage city.
Miigwech, as they say.
is there a progressive, pro-democratic, pro-environment, anti-imperialist, anti-capitalist, pro-reconcilliation political party in Canada that also promises to eviscerate funding for the "arts" in this country? because i'd fuckin vote for that party in a new york second.
have a nice day.